March 23, 2024 Houston, TX
2024 Group Visit Workshop: Modernize and Simplify with A.I. Tools

Unlock the Best Patient Outcomes
Discover the value and mechanics of group visits in healthcare and learn how to effectively implement them in your practice. This workshop is designed for healthcare professionals, including doctors, nurse practitioners, and PAs, who want to enhance patient care, engagement, and outcomes.
Open to Healthcare Professionals Driven to Make a Difference
Physicians, PA, NP: Earn up to 12 CME credits available
Location: 
Texas Center for Lifestyle Medicine 
What You'll Get
Live Demo of Group Visits with Real Patients: Get a behind the scenes look at Texas Center for Lifestyle Medicine.
Introduction to Group Visits: Explore the history and primary objectives of group visits.
Economic Considerations: Understand the financial balance and coding/documentatio.
Advantages of Group Visits: Explore the therapeutic benefits and patient-centered approach.
Modernizing Group Visis with A.I.: Learn about new CPT changes, AI integration, and documentation norms.
Achieving Financial Equilibrium: Maximize efficiency and care through revenue cycle management.
Real-world Impact: Discover evidence-backed value and operational insights.
Group Visit Formats: Compare and contrast different formats based on your experience, specialty, and patient population.
Roles within Group Medical Visits: Define the responsibilities of clinicians, health coaches, administrators, office managers, and patients.
Tips for Success: Master operational organization, feedback loops, and technological assistance.
Continuing Medical Education Credits: Earn CME credits while enhancing your skills.
Register For Our Symposium Now!
Group visits in healthcare aren't just gatherings; they are transformative experiences, backed by compelling statistics that show improved patient outcomes and enriched medical practice.
-Cheng Ruan, MD
A Never-Before Behind the Scenes at Texas Center for Lifestyle Medicine
Watch Live Demonstrations of Group Visits with Actual Patients In Real Time
During this workshop, you will have the unique opportunity to witness the magic of group visits unfold in real-time.
As our expert facilitators guide a live demonstration, you'll gain firsthand insight into the dynamics, patient engagement, and transformative potential of group visits, giving you a front-row seat to the future of healthcare.
Discover the A.I. Approach to Create Group Visit Workflows
As we explore the modernization of group visit documentation, you'll experience the cutting-edge power of AI in action. Witness real-time AI-driven documentation that not only streamlines the process but also enhances individualized patient care. It's a glimpse into the future of healthcare, where technology empowers providers and improves patient outcomes, all happening live during this workshop.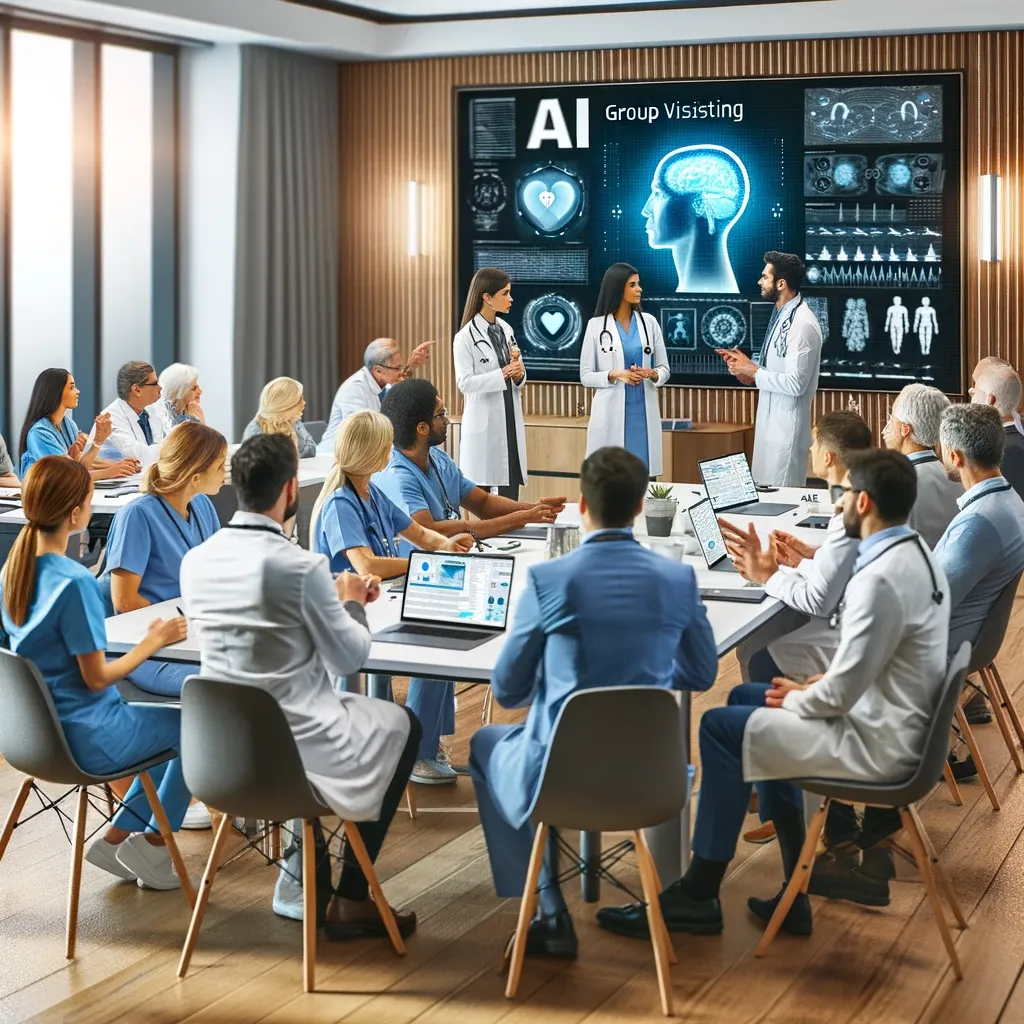 Strategies For "Monday Morning" Execution
Expect no stone left unturned as we share the highs and lows, successes and setbacks that have shaped our path.
We are committed to providing you with a transparent and comprehensive view of our work, ensuring that every question, whether about our successes or our learnings from adversity, is addressed.
We invite you to be a part of this enriching dialogue, where authenticity reigns and insights are plentiful. Leave no room for uncertainty as we collectively illuminate the path forward. Start your Monday morning with a sense of purpose and a commitment to making a positive impact.
Cheng Ruan, MD
It is our distinct pleasure to introduce Dr. Cheng Ruan, MD.. As the CEO of the Texas Center for Lifestyle Medicine and the Executive Director of the Physician Transformation Institute, Dr. Ruan stands at the vanguard of redefining healthcare through integrative approaches and entrepreneurial innovation.Dr. Ruan is the esteemed author of "The Doctor's Guide to Thriving in Integrative Medicine," a pivotal resource for healthcare professionals seeking to excel in their careers without succumbing to burnout. This book is a testament to his commitment to empowering healthcare entrepreneurs with strategies for success, blending medical expertise with business acumen.
At the Texas Center for Lifestyle Medicine, Dr. Ruan integrates holistic health strategies into traditional medical practice, emphasizing a comprehensive approach to wellness. This center has become a model for patient care that also supports the well-being of healthcare providers.
His role at the Physician Transformation Institute further amplifies his impact, offering healthcare professionals the tools and insights to thrive in a competitive, ever-evolving medical landscape. The institute is dedicated to nurturing a new generation of healthcare leaders who balance patient care with personal and professional fulfillment.
Dr. Ruan's journey is one of continuous innovation and inspiration. His book and leadership roles underscore his dedication to nurturing a healthcare environment where professionals can achieve business success while maintaining their passion for patient care.
Join us to hear Dr. Ruan share invaluable insights for healthcare professionals looking to navigate the complexities of the medical field with entrepreneurial spirit and resilience. His presence promises to enlighten and inspire all who seek to blend healthcare expertise with successful business practices.